Information for the Responsible Use and Transportation of Helium
JAZ Trading supports the use of helium by balloon professionals that follow responsible practices and standards.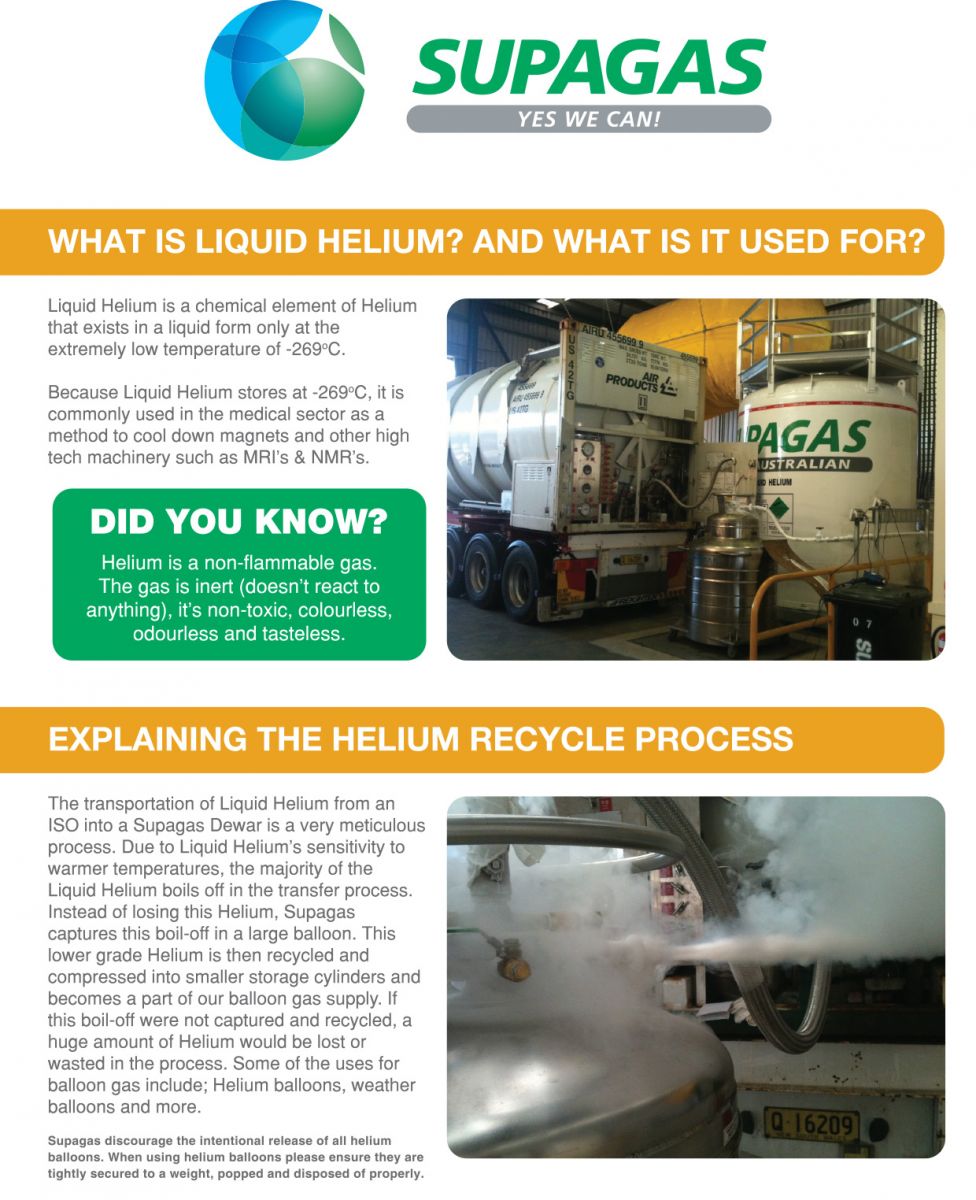 What is Helium Gas?
Helium is a non-flammable gas. The gas is inert (doesn't react to anything), it's non-toxic, colourless, odourless and tasteless.
JAZ Trading sources our helium from Supagas. This helium used to inflate balloons is a by-product of Liquid Helium gathered during the production of medical grade helium, the sale of which offsets the cost of medical helium.
What is Liquid Helium? And What is it Used For?
Liquid Helium is a chemical element of Helium that exists in a liquid form only at the extremely low temperature of -269oC.
Because Liquid Helium stores at -269oC, it is commonly used in the medical sector as a method to cool down magnets and other high tech machinery such as MRI and NMR machines.
How is Helium Gas Recycled from Liquid Helium?
The transportation of Liquid Helium from an ISO to a Supagas Dewar is a very meticulous process. Due to Liquid Helium's sensitivity to warmer temperatures, the majoirty of the Liquid Helium boils off in the transfer process. Instead of losing this Helium Gas, Supagas capture this boil-off in a large balloon.
This lower grade Helium is then recycled and compressed into smaller storage cylinders and becomes a part of our balloon helium supply. If this boil off were not captured and recycled, a huge amount of helium would be lost or wasted in the process.
What is the Difference Between Helium Gas and Balloon Gas?
Helium Gas that Supagas provides is greater that 99% helium purity versus balloon gas that can contain up to 5% nitogen or oxygen diluting the product from 99% to 95% purity.
Is the Party Tick of Inhaling Helium Safe?
NO. It is very dangerous and must be discouraged at all times. Evidence has proven that the inhalation of helium can be fatal. The inhalation of helium cuts of a person's supply of oxygen to the brain and can cause dizziness, loss of consciousness, an embolism and even death.
It is recommended that helium gas be used in a well ventilated area to reduce the danger of asphyxiation.
Please ensure that children are always supervised around helium use.
Transportation & Storage of Helium Cylinders
Transporting gas cylinders in enclosed vehicles is not recommended and customers do so at their own risk.
Vehicles with No Ventilation (ie. Passenger Cars, SUV's)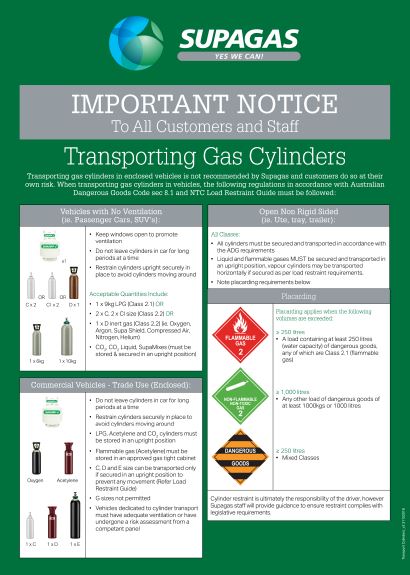 Can transport 2 x C size cylinders or 1 x D helium cylinder
Restrain cylinders securely in place to avoid cylinders moving around.
Keep windows open to promote ventilation.
Do not leave cylinders stored in vehicles for long periods of time
Commercial Vehicles (Trade Use)
Can transport 1 x E size cylinder in an upright position
Restrain cylinders securely, in un upright position to avoid cylinders moving around.
Keep windows open to promote ventilation.
Do not leave cylinders stored in vehicles for long periods of time
Always transport cylinders without a regulator attached.
Storing Helium Cylinders
Store securely and upright in a dry, safe place.
When cylinder is not in use, turn cylinder valve to closed and relieve the pressure on the regulator by tilting the nozzle up or down.
Helium Cylinder Specifications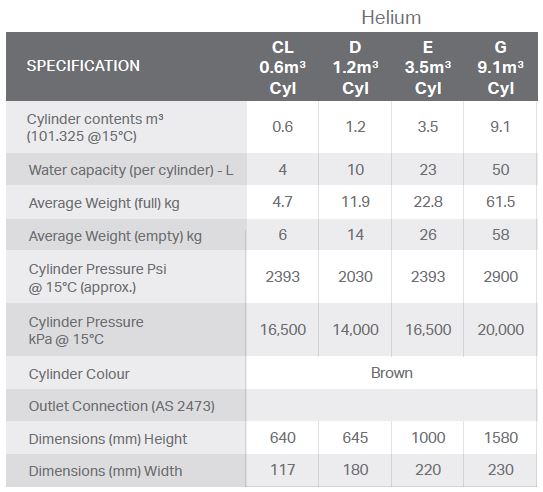 Balloon Capacity Chart